The role of digital technologies in society is evolving faster than most of us could ever have imagined only a few years ago. So too has the infusion of digital technologies in teaching and learning contexts increased. Due to the rapidity of this change, it is sometimes problematic for educators to know what kinds of uses are effective and supportive of learning. In early childhood education, the questions are even greater given the concerns about developmental readiness and pedagogical appropriateness for which there are few clear answers.
This summer, I had the opportunity to work with the early childhood educators visiting for the Vancouver Summer Program offered through International Education here in the Faculty of Education. I worked with the program instructors to develop and offer an in-class session geared to helping ECE's grapple with decisions about the place of digital technologies in early learning.
Our Critical Questions for the day:
"What are the implications of the ubiquitous nature of digital technologies on early childhood education?"

"What is the place for technology mediated learning in ECE settings?"
Following a brief introduction to the Pediatric Guidelines for Screen time for Early Learners, and an opportunity to get up and active by playing 'The Thirsty Robot'  computational thinking game, participants engaged in hands-on stations. While playing at both 'plugged' and 'unplugged' activities, they were asked to think like a child about what they were learning and also to think like an educator about where this learning might 'fit', what possibilities they saw and what problems they encountered or perceived.
Stations (individual stations varied a wee bit across each session):
Coding  (ozobot robots, Dash robot, 'unplugged' coding board game (all available for loan as Maker Kits in the Education Library)

Language and literacy (books, ebooks, document camera, storytelling using Augmented reality toys including Quiver colouring sheets, Animal and Dinosaur 3D)

Design and technology (Keva planks, Stop Motion Storytelling, Playdough, Buddha Board, OSMO)
Virtual and Kinesthetic Manipulatives (Merge Cube, Loose parts, puppets)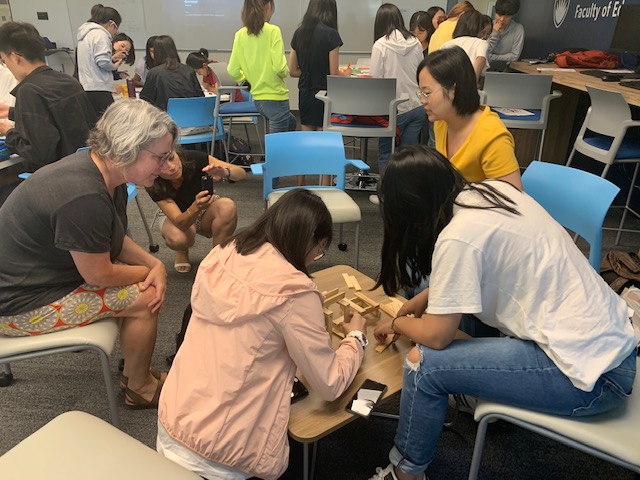 We believe the participants not only had a great time exploring and playing at the stations but also shared ideas and questions with one another (and us) related to the bigger picture of developmental appropriateness and the needs of early years learners.
Our 'Padlet Wall' where students shared questions and we crowd sourced responses across two cohort groups.
Link to our slides (NB: we presented the first 10 slides with the final slides acting only as reference in our debrief and discussion as needed)