Classes transitioned online about a month before the end of the semester. At first, I felt relieved from the continuous fidgeting that occurs throughout the day, the juggling between different tasks, attending classes, doing readings, working, and doing some housekeeping tasks such as grocery shopping, cooking, and laundry. However, I soon started missing meeting people!
The online transition somehow went smoothly. Face-to-face classes transitioned to online classes through Blackboard Collaborate Ultra and discussion boards on Canvas. Groups discussions were allowed through breakout rooms. My two assigned presentations were carried out through Screen Sharing on BB Collaborate.
As an international student at the time of the pandemic, I felt stressed out by its accompanying uncertainties. Worrying about my family, now that we are on different continents with no flights in the near future. Weighing my options is hard. I am torn between considering packing and going back home with the risk of not being able to come back to Vancouver for classes in the fall (before it was announced that classes will continue to be online). Or, staying here for an unknown period of time.
Yet, fortunately I was able to maintain my focus and do what needed to be done, as I thought worrying wouldn't change anything, and I have some short-term goals. So I did the readings, attended classes, and worked on my final assignments.
Successfully passing this difficult period, I thought I knew it all.
However, the real challenge came with the summer courses.
I am currently taking a self-directed study which requires completing over 50 readings and submitting a 5000 to 6000-word final paper. Without the structure during the day, I realised I needed to motivate myself to keep up with the required coursework.
Having a day full of many tasks with different deadlines might seem overwhelming.
I kept trying different strategies that would help me be productive and enjoy the process.
Here are my thoughts…

Six tips when studying during the Pandemic:
1. Acknowledge the need to do some daily routine tasks
Many mundane tasks take much of the time, and sometimes we do not feel like doing these especially when we are busy or near a deadline. Examples include calling family members (taking into account the time zone difference), attending meetings, and doing some housekeeping tasks. A good practice I found is to estimate the amount of time required for each of them and assign time slots in the weekly schedule. This helps you become realistic about the time you have left for your school work and not feel guilty, unproductive, or distracted by these routine tasks.
2. Begin with the end in mind
What do I want to do this semester? So, if you are to do a certain number of readings/assignments in a certain period, go through the readings and have a sense of the readings' lengths and level of difficulty. Divide the readings upon the study period and envision the amount of daily work that you need to do. Commit yourself to this minimum amount of task. For example, I found out I needed to read an article per day in order to complete the coursework in two months. Knowing this in mind obliges me to commit to this goal.
3. Create Some Healthy, Fun Routine in Your Day
Now that you have known your daily study tasks  and have assigned time for it, think of the activities that make you happy and could do on a daily/weekly basis, then intentionally allocate time for them. Do not make it dependent on whether you finish the task or not. Instead motivate yourself to finish the task before doing the activity. This will be a motivation to avoid distractions.
4. Avoid Distractions
Take the time to notice what distracts you throughout the day. It could be social media, calls that you receive, or even feeling bored and not being able to focus. Instead, be proactive, assign time ahead for these activities, and try to work for undisturbed blocks of time. Similarly, assign time for break times when you need them.
5. Keep the Social interactions
It is very important to maintain social relationships during this unprecedented time. Try to go for a walk with a friend (with social distancing) in your breaks, or go grocery shopping together. Try to engage with online events/meetings through smiling and asking about each other.
6. Be realistic
With these in mind, be realistic and do not set harsh goals. It is a hard time for everyone. It is okay not to feel okay on some days and drop that plan. It is okay to acknowledge that you are not feeling well and need a day off.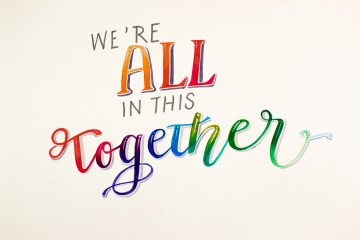 Finally, these are my personal thoughts. You might need to explore what your distractions are and what the best motivations are for you. Also experiment with finding your best routine.
Take good care of yourself,
This too shall pass!
Nashwa
Guest Post: Nashwa Khedr, EDCP graduate student, project assistant 2020